Merry-Go-Round (limited)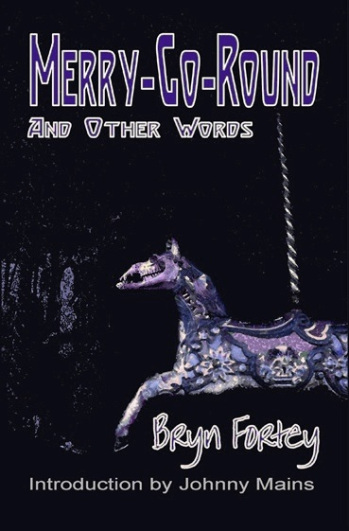 Merry-Go-Round (limited)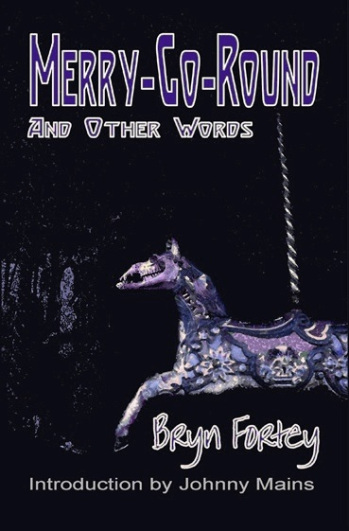 Merry-Go-Round and Other Words by Bryn Fortey
Introduction by Johnny Mains
Cover art by Peter Coleborn
ISBN 978-0-9573489-2-4
Bryn Fortey has enjoyed a lifelong flirtation with words. His first sale was "A Saleable Commodity" to International Storyteller in 1969. Bryn's first horror story publication was "Prison" in David Sutton's New Writings in Horror & The Supernatural 1 in 1971. The similarly titled New Writings in SF 28, edited by Ken Bulmer, included his first science fiction sale, "Wordsmith", in 1976. Bryn's poem "A Taxi Driver On Mars" was placed first in the Data Dump Awards for SF poems published in the UK during 2008 and was nominated for the American Rhysling Anthology the following year.
Following a break from writing during a period of family bereavements, his comeback story was "Ithica or Bust" in The Alchemy Press Book of Ancient Wonders edited by Jan Edwards and Jenny Barber in 2012.
Merry-Go-Round and Other Words by Bryn Fortey collects the best from the author's oeuvre, from his first horror story publication to stories appearing here for the first time. The contents range from across the horror and science fiction fields, with a bit between.Merry-Go-Round also includes his heart-felt poetry. This limited edition hardcover comes with a moving tribute by Johnny Mains and an extra, brand new story. An essential collection.
Limited to just 60 signed (by Bryn Fortey) and numbered copies.
Introduction by Johnny Mains
Shrewhampton North-East
Merry-Go-Round
Poems #1: First Date / One Room Ahead / Saying Goodbye / Words for a Son / Boy in a Box / The Art of Letting Go
Ithica or Bust
Daddy
Poems #2: Defining Moment of Improvisation / The Glenn Miller Stories / Jazz-Noir / Honky Tonk / Blues for Bessie / Marching into Glory
The Oscar Project
Poems #3: A Taxi Driver on Mars / Planetary Observation / Safari / Siren Women of Tremulan III / Satellite L'amour /
Denton's Delight
Wordsmith
Skulls
First Words
Poems #4: A Solitary Dream / These Autumn Days / Let Me Journey / Nightfall /
The Teleported Woman's Husband
The Substitute
The Flier
Prison
Remnants
Nasty
Poems #5: Old Battles / Finding Nina Simone / Soulo Beata / Mess of Blues / Blood Lover Sandwich
The Pawn Shop Window
Crossing the Snowline
Playing From Memory
Digging of Holes Considered as Symptomatic of Personal Compulsion
The Dying Game
Therapy
Poems #6: Rock & Roll Damnation / Singing / Suckers / I See Many Dancers / Know the Blues
Monster
Shrewhampton North-West
Afterword by Bryn Fortey
REVIEWS
"This fine anthology reaches back to the very start of his writing career, renews our connection with the best of the years between, and presents a handful of new previously unseen gems. In total, it's frighteningly good, an invaluable volume." — Andrew Darlington,The Zone.
"If you have encountered some of Bryn Fortey's writing before, I am sure you will be as keen as I was to read this collection, and if you are new to his work, then there's no better place to start"  … and … "This is an excellent collection that shouldn't be missed if you enjoy fiction or poetry. Highly recommended." – Atlantean Publishing
"Bought originally on a whim – Bryn appears on my partner's family tree, but was pleasantly surprised. My usual read is a 'who dunnit' so Merry-Go-Round is a real change. Stories stretched my imagination, and I loved the poems and go back to read them quite often. I could almost feel Bryn's despair. Ideal book for taking on a journey when the short stories can be picked up at any time." — Gil Sanford
"I've been a fan of Bryn Fortey's off-beat work for many years and was really excited to find this collection. Not only are there some of his older stories – difficult to find these days outside of this book – which I was delighted to revisit, but much new and unfamiliar work which shows he's still at the top of his game. Horror, fantasy, science fiction and some stories that aren't easily categorised but are nonetheless a pleasure to read. And, for someone like me for whom poetry isn't a first choice, I found that Bryn Fortey's poems were very engaging and accessible, including some that were much more moving than I'd expected. And a suitably disturbing cover by Peter Coleborn. Really recommended." —Amazon
"This is a collection of poetry and fiction from one of my favourite small press writers, a mixture of darkness and light. Bryn Fortey had horror stories published in the old Fontana anthologies and has had numerous poems and short stories published by Atlantean Publishing and other small presses, as well as making appearances in some of the fine anthologies published by The Alchemy Press. Merry-Go-Round opens with a lengthy and absorbing introduction by editor Johnny Mains, which is both the perfect introduction to anyone unfamiliar with the man and his work, as well as still being of interest to those readers who are familiar. Bryn Fortey is a writer who knows how to write to perfect effect. The opening story of the collection, Shrewhampton North-East, for example, has perfect pace, whilst making use of repetition to simultaneously replicate the boredom of a stifling train journey and build a subtle air of menace in a wonderfully offbeat story.
Perhaps my favourite story in the collection is the wonderful Ithica or Bust retells The Odyssey in space (I especially like the passing reference to a Cassandra-box!). with Odysseus attempting to his home planet of Ithica … If you have encountered some of Bryn Fortey's writing before, I am sure you will be as keen as I was to read this collection, and if you are new to his work, then there's no better place to start. Even if not all the content is to your taste, there is so much and such variety that you will find plenty to entertain you. The closest I can get to a criticism is that a few poems would have been better if given their own page, rather than split across pages – and, then, only because they're so good! This is an excellent collection that shouldn't be missed if you enjoy fiction or poetry. Highly recommended." — DJ Taylor